Club News
Prize Draw Winners / Tv Schedule for Rally 2017-03-14
Abbey Court Hotel, Nenagh Stages Rally
We would like to give a big thanks to all marshals, officials, time keepers and everyone who helped out in any way, despite the difficult conditions for the rally over the weekend.
Results are now available to view on Angus Sealy's Results Website.
The winners of the Oliver Stanley Motors, Durrow & Texaco Prize Draw and the Birr Rally Tv Schedule is now also available Here.
Other
Here's a video of 2 club members being interviewed by a local lad, Michael Grace, who is doing filming production in college.
https://vimeo.com/89899279?ref=em-v-share
The MERC results are now updated after Round 1 and are available here.
Calender and Club Championship
Dates for Club Events for 2017 are now available here.
Club Membership, Registration Form and Championship Details now also available here.
---
Abbey Court Hotel, Nenagh Tarmac Stages Rally Results
Results
Oliver Stanley Motors, Durrow & Texaco Prize Draw
Results of the Rally Programme Draw
Sponsored by: Oliver Stanley Motors Durrow & Texaco

1st Prize €250 - David Keane, Tynagh, Co Galway
2nd Prize €150 - Gavin Woods, Rossmore, Grangefertagh, Johnstown, Co Kilkenny.
3rd Prize €100 - Pat Corcoran, Chesterfield Close, Birr, Co Offaly.
Special Prize Meal Voucher for the Abbeyleix Manor Hotel - Clodagh Henehan, Barrymore, Athlone, Co Roscommon.
TV Schedule
The TV Schedule for the Birr Stages Rally is now also released by On The Limit Sports and can be viewed below. Be sure to check it out!
---
Munster Autocross Championship 2017
Regs:
Dates:
| | |
| --- | --- |
| Skibbereen | 19th February |
| Clare | 5th March |
| Clare | 21st May |
| Munster CC | 11th June |
| Skibbereen | 9th July |
| Killarney | 6th August (Grass Surface) |
| Imokilly | 15th October (Grass Surface) |
| Birr | 19th November |
| Limerick | 10th December |
| Cork | 27th December |
MAC 2017 all set to kick off!
The 2017 Munster Autocross kicks off as usual with the Skibbereen Autocross. It will be held next Sunday February 19th and hosted by the Skibbereen and District Car Club.
The venue is Gravel Park, Keohane's Pit, Grancore, Clonakilty, Co Cork with a start time of 10.45am. The event secretary is available at 086-8598038.
The 2017 Munster Autocross Championship is a ten round series, with the second and third races hosted by the Clare MC on March 5th and May 21st respectively. It is back to county Cork for the next couple with Munster CC on June 11th and the second Skibb race on July 9th. Killarney MC will host the first grass autocross on Aug 6th followed as usual by Imokilly Oct 15th Definitely the business end of the championship now, but there is a trio of gravel events with Birr Nov 19th, Limerick Dec 10th and finally Cork MC on Dec 27th.
The 2017 Munster Autocross is supported by Daly Motor Services, Killarney, O'Shea Bus Hire, Barrett International Transport and Pablo Photography.
Article by Austin Shinnors, MAC PRO
---
Birr Club Championship 2017
Next Club Meeting takes place on Monday 3rd April 2017 in the Racket Hall Hotel, Dublin Road, Roscrea @8.30pm.
To register with the club and join in the prestigious battle in the Club Championship, please follow the details found here.
Club Merchandise including Hats and Polo Shirt are also available for sale here.
Club Championship Structure 2017
---
Birr Events 2017
| | |
| --- | --- |
| 26th February | Tarmac Stages Rally |
| 9th April | Autocross-Grass |
| 13th & 14th May | 2 Day Autotest |
| 30th July | Multi Venue Autotest |
| 7th August | Tom O'Reilly Memorial Car Treasure Hunt |
| 8th October | Endurance Trial |
| 19th November | Autocross-Loose Surface |
| 30th December | New Years Eve Autotest |
A full list of Motorsport Ireland Fixtures for 2017 can be found here.
---
Club Merchandise for Sale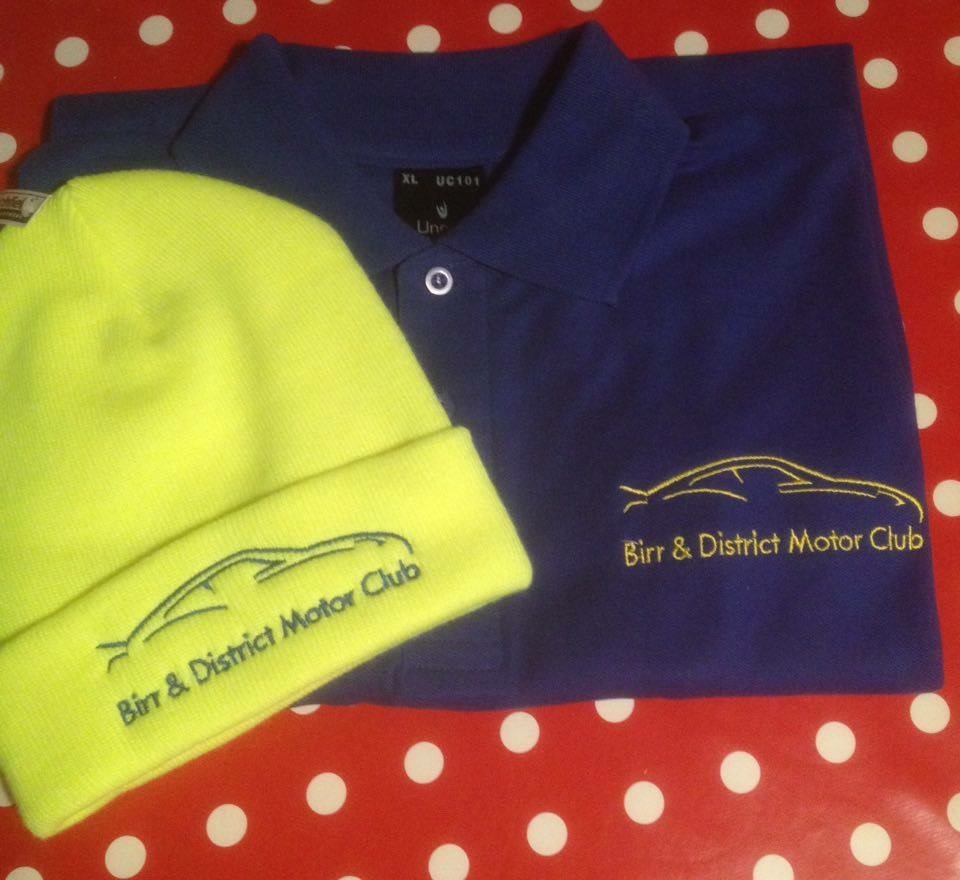 Birr Motor Club are pleased to offer Club Merchandise for sale.
The following are on offer:
Hat - €8 each
Polo Shirt - €15 each
Hat & Polo Shirt Combo - €20 each
Postage & Packaging Extra.
Contact Ger Conroy on 086 2538164 for more details and to place your order.
---