Birr Club Championship Points 2016
Updated 2016-08-15
The BADMC Club Championship is well underway.
Here is the Standings up to date as of 15th August 2016.
To register for the Club Championship, please follow the details found here.
Club Merchandise is also available here.
Next Club Meeting takes place on Monday 12th September 2016 in the Racket Hall Hotel, Dublin Road, Roscrea @8.30pm.
---
5 Star Catering National Loose Surface Autocross Championship 2016
Updated 2016-08-17 (Carlow Regs Added)
Image courteousy of Pablo Photography
Championship Points
Points after Round 5 of the 5 Star Catering National Loose Surface Autocross Championship.
Round 6
Round 6 is being hosted by the Carlow Car Club near Inch, Gorey, Co Wexford on Sunday 28th August.
---
Vintage Week Tom O'Reilly Memorial Car Treasure Hunt Results 2016
As ever the Birr & District Motor Club's 48th Annual Tom O'Reilly Memorial Car Treasure Hunt was an outstanding success with a whopping 80 Crews taking part. The Car Treasure Hunt is part of the Annual Birr Vintage Week & Arts Festival.
This years route started in Dooly's Hotel Birr and moved on through Syngefield, Killyon, The Pass and finished in Kinnitty Village. Clues were varied and some were demanding and hard to find.
The Overall Winner was Keith Treacy on 639 Marks with runners up Cait Molloy on 620 Marks. Joint 3rd place went to Birr Residents Millie King & Rose Harte finishing on 590 Marks.
The Birr & District Motor Club would like to thank all those who participated, The Residents along the route for there patience & understanding, Dooly's Hotel Birr for there excellent hospitality, Birr Vintage Week Committee along with the organisers Ian O'Brien, Eoin Longworth, Una O'Brien & Mick Boland who laid on a very enjoyable evenings fun.
---
Birr Multi Venue Autotest Results 2016
Thanks to everybody that took part in the 2016 Birr and District Multi-Venue Autotest.
The event consisted of 18 tests which ran in wet conditions in the morning, but gradually cleared up as the day progressed.
Well done to the overall winner, Richard Meeke who competed in a Toyota Starlet.
The class winners were:
Class 1 - Frank Linehan (Toyota Starlet)
Class 2 - John McAssey (Toyota Starlet)
Class 3 - Piers Mac Fheorais (Mazda MX-5)
Beginner - Gary Egan (Toyota Starlet)
First BADMC Member - Ciaran Garahy (Toyota Starlet)
---
2016 Loughransigns.com Midlands East Rally Championship Points after Round 4
Points after Round 4 of the Loughransigns.com Midlands East Rally Championship.
Round 5 of the Loughransigns.com Midlands East Rally Championship is the Westmeath Rallysprint taking place in Athboy on Sunday 21st August 2016.
---
Birr 2 Day Autotest Results & Writeup 2016
Saturday Overall
Saturday Class
John & Liam Simply The Best.
Where would you rather be on a beautiful, sunny May Weekend than Kilcotton, Borris-in-Ossory for another fabulous Birr Autotest Weekend, full of Starlets, Sun-burn and the odd Micra & Suzuki Swift. This year kept up the now standard 2 day format, in the glorious Campion's Yard, organized by the COC, Bill Ryan.
After slight technical issues with getting my own car ready for the trip up from Cork, I instead turned to Tiny Motorsport Ltd., where Eoin Longworth was more than happy to help out by offering me the opportunity of double driving his car for the weekend.  A car which is familiar to me on both sides!!!!
As I arrived on Saturday for the leisurely 4pm start, I already saw plenty of cars ready for action. 22 competitors battled on the various tests throughout the day to see who could prove the quickest.
This year the tests were significantly different from previous years, due largely to the extra flurry of work going on in the yard, and the extra supplies strategically left around as a result.
Test 1 started out in a tight section of the yard, but quickly opened up into a nice, quick, free-flowing test, with the odd reversing maneuver thrown in for good measure. On finishing, competitors ended up with a tight, technical loop around a pylon, which ended up caching the odd competitor out and costing valuable seconds in the race to the top.
Test 2 consisted mainly of sand and loose concrete, with a tight, awkward reverse and throw motion in the corner for good measure to make the test more interesting.
Test 3 then moved down the back of the yard, where a mixture of concrete, sand and gravel that constantly had you guessing the grip levels under the tires as you looped pylons and reversed over the odd line.
A much needed lunch break at 17:45, as always, consisted of the fine dining experience served by Batty & Marie from the 5 Star Catering Truck.
After a fun day of auto-testing, John McAssey emerged the victor. Robert Lewis took the win in class 1 despite intermittent gearbox trouble, Richard Meeke winning class 2 and Piers McFheorais won in class 3 just 10 seconds ahead of Mark Faulkner who traveled over 220 miles to compete with us and provided great entertainment all weekend in his rear wheel drive MX5. 
Kieran Garahy also took best Birr Member of the day. A great performance was also seen from, Pat Maher, who won 3rd in class and was the best Newcomer, despite it being his first day out.  Others who featured in Saturday's Results included William Cavanagh from Modreeny in a Toyota Avensis, Gerry Joyce from Galway, Newly Wed David Forde, Coolrain Publican Lar Hogan & The Yeti!!!!
Next it was off for a quick shower to remove the various test's surface from our hair, before hopping on the bus to the renowned Birr Social Night, held in Sheerans Bar, Coolrain. This was hosted by Lar Hogan who rushed off to prepare after putting in a fine performance to win second in class, who provided much needed refreshments. Here the banter continued well into the night and new challenges were laid down for the next day's event, particularly between Declan Donohoe and Peter Molloy who had a fine battle amongst themselves all day and very little splitting the pair in the results.
Sunday saw a slight change to the event format starting at Midday, involving the addition of a forth test, starting this time down the bottom of the yard. Here, competitors were introduced to a quick mixture of sandy concrete, gravel, and the only sign of water we saw all weekend in the form of a large puddle.
We also saw the arrival of some new competitors, bringing the total competing to a whopping 33 competitors. This included the 5 man Borrisoleigh/Twomevara Team of Damien O'Meara, Mark Shanahan, Joe Buckley, Liam Ryan & David Shanahan who started the day with 2 micras, but were gradually reduced to 1 by the end, and the Midland Tyres Contingent of Eoin Quinlan, Frank Dwyer and Hughie Dunne along with Ciaran Dwyer from Arigna.  Father & Son Team Larry & James Newe made there Autotest debut on Sunday and thoroughly enjoyed the experience.  Ladies Award went to Patricia Denning with Judy Lambert taking 2nd Ladies Award.
Here we again enjoyed a great day of Motorsport, and were even privileged to watch an old trials car, a Ford Special driven by Charlie Cavanagh on its first event since 1977, perform on test 1 during the lunch break.
Sunday saw a new winner emerge, Liam Cashman from Cork taking the prize this time, with Frank Dwyer, John McAssey and Piers McFheorais all winning in their various classes.
I would like to give a special thanks to our COC Bill Ryan, M.I. Steward Timmy Faulkner, Results Officer Mark Parsons, and all the Marshals who helped make the weekend such a success.
So that's it from another fabulous weekend of motorsport from the Birr & District Motor Club. Roll on Sunday July 24th where the Birr Multi Venue Autotest, based around Athlone will be sure to provide just as much entertainment and fun.
Wrote by Patrick O'Leary
---
Birr Grass Autocross Results 2016
Here are the results after a wonderful day of autocross at Ballingarry, The Birr Grass Autocross, opening round of the PK Windows & Doors National Autocross Championship.
Well done to both competitors and marshals who helped make the day a success.
---
2016 Autocross Championships
Preparations are under way for the first round of the 2016 PK Windows & Doors National Grass Autocross Championship, The Birr Loose Surface Autocross on the rescheduled date of Sunday, 17th April 2016. The Venue and More Details can be found above.
In the meantime, here's some details of the counting rounds for both championships:
PK Windows & Doors National Autocross (Grass) Championship
| | |
| --- | --- |
| Birr | *17th April |
| GSMC | 15th May |
| Carrick on Suir | 5th June |
| Galway | 3rd July |
| Clare | 17th July |
| Midland | 7th August |
| Westmeath | 11th September |
| Tipperary | 25th September |
| Imokilly | 9th October |
* new date
5 Star Catering National Loose Surface Autocross Championship
| | |
| --- | --- |
| Munster (LS) | 24th April |
| Clare | *29th May |
| Midland | 26th June |
| Skibbereen | 10th July |
| **Mayo | 24th July |
| Wexford | 14th August |
| Carlow | 28th August |
| Galway | 23rd October |
| Birr | 20th November |
* new date
** dropped as a counting round of 2016 Championship as it cannot accomidate Buggies/Specials.
---
2016 O'Shea Bus Hire Munster Autocross Championship
Rules & Regulations
Dates:
| | |
| --- | --- |
| Skibbereen | 28th February |
| Munster CC | 24th April |
| Clare | 29th May (date subject to confirmation) |
| Skibbereen | 10th July |
| Killarney | 31st July (Grass Surface) |
| Imokilly | 9th October (Grass Surface) |
| Birr | 20th November |
| Limerick | 11th December |
| Cork | 27th December |
---
Club Merchandise for Sale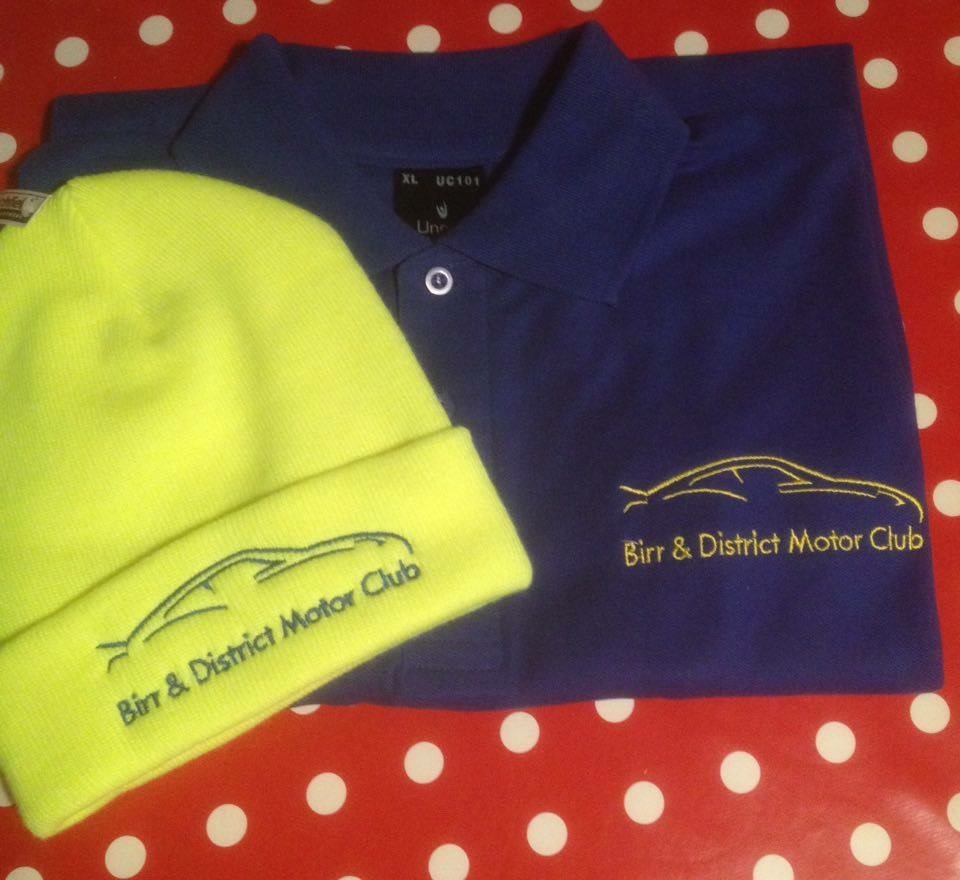 Birr Motor Club are pleased to offer Club Merchandise for sale.
The following are on offer:
Hat - €8 each
Polo Shirt - €15 each
Hat & Polo Shirt Combo - €20 each
Postage & Packaging Extra.
Contact Ger Conroy on 086 2538164 for more details and to place your order.
---
Donaghs Double
Rally Results from results.shannonsportsit.ie (Angus Sealy)
Donegal's Donagh Kelly and his Monagahan co driver Connor Foley dominated a field of 90 cars at the Abbeyleix Manor Hotel Stages rally on Sunday last. This years event was the opening round of ever so popular Top Part West Coast and Loughran Signs Mildand East rally championships.
Last year with Kelly driving the same car a WRC Ford Focus won the event with regular co driver Kevin Flanagan on board. On Sunday last Kelly and Foley had a faultless drive all day to retain the title by winning the event by 55.3 seconds ahead of Niall Maguire and Enda Sherry in their Subaru WRC.
The weather conditions provided very difficult conditions to the already challenging stages. On the opener of the six stage event. Kelly emerged from the traps to take a 7.4 second lead from Welsh driver Steve Wood, with Paddy Mc Veigh a further 8 seconds behind.
Carlow's George Condell set the pace for the modified section in his class 13 Starlet, just two seconds behind Mc Veigh and 18 seconds off the lead.
On the second test Kelly increased his lead by 33.3 seconds to Mc Veigh who gained second after Steve Wood crashed his Subaru near the end of the stage two. Niall Maguire climbed up to third position before the first service despite having some issues with the car stalling on the start line.
Fourth Placed George Condell was holding position despite having a few major moments due to the extremely slippy conditions. Kenny Mc Kinstry(WRC Subaru) at fifth place had a small rub with a bank causing no damage, while Enda O Brien (Escort)entered service in sixth. Barry Ryan (Escort)in seventh, Kevin Kelleher (Subaru) eight.Mick O Brien in his newly acquired Fiesta was ninth while Kevin Barrett rounded of the top ten.
On the repeat of the next loop of stages Donagh Kelly powered ahead increasing his lead to 51.4 seconds. Meanwhile Niall Magurie climbed up to second position 3.9seconds ahead of Paddy Mc Veigh who reported losing some time after catching up with Kenny Mc Kinstry who seemed to be having difficulty with his Subaru.
Kevin Kelleher got into a rythem and was up to fourth followed closely by the escorts of Enda O Brien and Barry Ryan. Mc Kinstry and Condell had now dropped back to seventh and eight while Trevor Mulligan (Escort) had now climbed up to ninth despite having a few battle scars after the first stage. The other Condell David in his class 14 escort rounded of the top ten after the next loop.
William Cavanagh and Oliva Coen were setting the standards high for the club members awards closely followed by Joey Carroll and Mark Kirwin,while Paul O Brien and Shaun Forde retired with mechanicl trouble.
Donagh Kelly emerged victorious after the final stage with Magurie and Mc Veigh rounding off the top 3.Corks Kevin Kelleher (Subaru) fought hard all day to secure fourth while Enda O Brien had a superb drive to win the modified class in his Mk2 escort.Barry Ryan and George Condell took sixth and seventh while also clinching first and second in class thirteen. Trevor Mulligan finished eighth,11.2 seconds ahead of David Condell in ninth and both taking awards in class fourteen.
Kevin Barrett in his Triton showers backed Subaru rounded off the top ten. Shane Maguire won the production group N Category and Keith Power took the R.A.E front wheel drive award while winning class 3 in his Clio.
Joey Carroll with club member Mark Kirwin were the winners of class 11F with Mark taking the John Finnegan memorial cup for the highest place club member. William Cavanagh and Oliva Coen were second in class 12 in their escort, while Frank Dwyer navigated Thomas Lynch to second in class 11F.
David Forde and T.J O Brien won class 15 and Brian Kirwin and William Ryan won class 1 and also collected the spirit of the rally award in their hired Honda Civic. Congratulations to all award winners.
Clerk of the course Bill Ryan and his hard working team of volunteers would like to thank everyone who helped out in any way in making this event happen. The club would also like to thank all the residence and landowners along the rally route as with out their co-operation this event could not run. For more information and to keep up to date with club events log onto www.birrmotorclub.com or follow us on Facebook facebook.com/birrmotorclub or Twitter @birrstagesrally.
---
Club Membership
Club Membership is now open to anyone who wants to join Birr and District Motor Club.
To Join, simply fill out the Membership Form, and send it, along with your entry fee to the address provided.
---
2015 Club Championship Awards
The 2015 Club Championship Awards Night took place on Monday 11th January 2016. Well done to all award winners.

Images courteousy of Ian O'Brien
Club Championship Award Winners
---
Motorsport IRDS 2016
Motorsport Ireland have changed the way they are handling IRDS Applications this year.
As usual, you are required to apply for IRDS at least 14 days before cover is required by filling out one of the forms below and sending it to MI.
Link to Forms (Download IRDS or BRDS as required)
However, competitors and officials will no longer receive an IRDS/BRDS letter or need to present a letter to organisers at event sign-on. Instead, under new arrangements agreed with the insurers, an updated database will be published on Thursday of each week, which will be available to view by all concerned.
This Database can be accessed through the Motorsport Ireland Website by clicking on the "IRDS & BRDS DATABASE UPDATED" link in the "LATEST NEWS" section on the home page.
---
Birr Events 2016
| | |
| --- | --- |
| 21nd February | Tarmac Stages Rally |
| *17th April | Autocross-Grass |
| 14th & 15th May | 2 Day Autotest |
| 24th July | Multi Venue Autotest |
| 1st August | Tom O'Reilly Memorial Car Treasure Hunt |
| 9th October | Endurance Trial |
| 20th November | Autocross-Loose Surface |
* new date
---